The AIP Team
The AIP Team
Student Peer Advisors
Lucy Hall

Lucy Hall is a fourth year ERC student majoring in Political Science and Ethnic Studies. Her Political Science focus in Public Policy and strong interest in government made the UCDC Program perfect for her. She participated in Spring of 2015, interning with a Congresswoman on Capitol Hill, and was happy to join the AIP team as a UCDC Peer Advisor upon her return. Lucy is also interested in social justice, comic books, and traveling to new and exciting places.

Erin Brown

Erin Brown is a third year Marshall student majoring in Political Science with a minor in Sociocultural Anthropology. Her focus in policy and government application of policy, in addition to her interest in working through non-profits to uphold democratic ideals, made the UCDC Program a perfect fit for her. She was apart of the program in the Summer of 2016, as a research intern for Common Cause Maryland, and was thrilled by the opportunity to join the AIP team! Erin is also passionate about the arts, displayed her involvement with her A Cappella group, Duly Noted, and her work with Art Power, and she enjoys binge watching Netflix shows and spending time with her friends.

Christina Guerrero

Christina Guerrero is a fourth year Revelle student majoring in Cognitive and Behavioral Neuroscience. She focuses on understanding people, biologically and behaviorally, to better assist her peers. In the past, she has dabbled with environmental policy and proactivity in a student-led environmental club, assisted numerous patients as a volunteer at Scripps Memorial Hospital, and volunteered in an addiction lab as an academic intern through the Academic Internship Program. She gained first-hand experience of working alongside experts and professionals in a research lab. She has gone through AIP, and she will gladly guide others through the AIP Process, share her experiences, and provide a few tips and tricks for the program.
Contact UCDC Peer Advisors at ucdc@ucsd.edu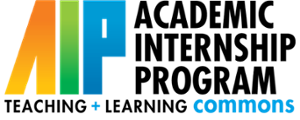 About AIP