UC Center Sacramento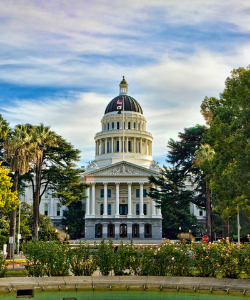 UC Center Sacramento (UCCS) is the University of California's premier teaching, research, and public-service site located one block from the State Capitol Building in Sacramento, California. As a unique experience for University of California students to combine academics, research, and public service, UCCS engages students with public policy and policymaking at all levels of government, in a diverse number of fields. 
The UCCS program is available year-round (fall, winter, spring, and summer quarters), and all majors are encouraged! Past UCSD students have interned in the State Capitol (with State Assemblymembers and State Senators, Committees, and Offices), various government departments and agencies (such as the Department of Public Health, Department of Housing & Community Development, the Environmental Protection Agency), and organizations (such as LULAC, California Forward, and more). 
Reasons to Participate in UCCS
Internships in all fields of interest and industries are available. 

Network with your University of California peers and professionals in a variety of settings. Expand your professional network through workshops and events in Sacramento - the possibilities are invaluable. 

Sacramento is a dynamic city, known as the Farm-to-Fork capital. Not only is Sacramento home to many landmarks of historical significance, but it is also home to many businesses, organizations, and museums. As an undergraduate student, the opportunities are endless! 

Be at the center of California's public policy research. UC Center Sacramento seeks to foster public policy research in the University of California system in collaboration with partners in academia, government and philanthropy. 

Learn from the top scholars in every field. UC Center Sacramento hosts a

weekly speaker series

and other workshops, summarizing new findings or synthesizing information with potential implications for state policy. This year's themes include:

1) Economic Revival in California During and After the COVID-19 Pandemic

2) Meeting the Needs of California's Changing Workforce; and 

3) The Future of Publicly Funded Education

Contact: Jennifer Homrich
Department: Teaching + Learning Commons, Academic Internship Program
Email: jhomrich@ucsd.edu